Titiana Shostak-Kinker Shares the Story of Her All-Women Climbing Film on Dirtbag Dreams
Titiana Shostak-Kinker, an adventure education professor and climber since 1997, got completely hooked on climbing films about ten years ago. She started watching every film she could get her hands on, but was disappointed to find a lack of women on camera and behind the scenes. She decided that the outdoor film industry needed a new look, and she started tossing around the idea of an all-women's climbing film with a friend. Finally, this year she had a chance to put her idea into action and On the Rocks was born. On the Rocks (working title) is the first all-women's climbing film from top to bottom. Everyone from the climbers to the riggers to the cameramen (women!) are all female. The story she is telling in her short six to eight minute film is quite different than you find in most traditional climbing flicks. Mallory Ayres from OPL had a chance to sit down with Titiana and get an inside look into her groundbreaking film.
On the Rocks Trailer: http://atypicalart.com/ontherocks/trailer/
Q. This film is made completely by women. In what ways do you find it differs from most climbing films that are made today?
A. The main thing is that there is no emphasis on ratings (that doesn't really have to do anything with gender) but my vision for the film was to really place the emphasis on wilderness and nature, and on the state of flow and state of meditation that climbers reach when they are climbing, more than any particular rating or new famous area or someone who is sponsored. The whole goal of the film is really more about the everyday climber who is going out and finding so much joy and solace in their climbing time. A part of it is that it's all totally local too – it's all filmed within 80 miles of Prescott, in areas that are not all that well known (there are a few that are), but most of them are not that heavily traveled and there is not going to be any information on ratings or where places are exactly. The other thing is that it is really about beauty and aesthetic instead of cranking out hard routes or projecting things.
Q. What are the main themes of the film?
A. The main themes are wilderness and nature: a lot of beautiful footage of sunsets and clouds moving and the colors of rock. I'm hoping to depict the experience of the closeness to nature that the rock climber feels because that's often left out of film. With the state of our world, the more emphasis I can place of the value of being in the wilderness and the value of wilderness the better I feel about putting out the film to the world. The other themes are definitely joy and comradery. I had no idea that there would be so much joy that arose out of the filming. That's what happens when climbers go out and they are not worried about the rating or doing anything that's super gnarly. It's more about the joy of the experience and also the friendship between female climbing partners. The other main theme is the beauty of movement over rock. We have all different types of rock here: sandstone, limestone, granite, basalt and quartzite within 80 miles. The color of rock and the shapes of bodies moving across rock and that art is a main theme of the film.
Q. You say that in the film you are depicting the spiritual connection between the climber and the rock. Can you describe this connection in your own life? How does it change the way you approach a route?
A. The first thing that comes to mind is just the humility that comes from climbing the rock. Each day when I go out I match the choice of route with how I'm feeling that day. I match if I want to go with a partner or I want to go bouldering by myself. Maybe I want to use a ground pad and have a spotter, or maybe I just want to do easy things that I'm not going to fall off of, or maybe I want to go on a long walk. The spiritual connection happens for me because I really have to be truthful and honest about where I'm at. I also have to be vulnerable with my climbing partners, so there is a sense of smallness as a human being and a respect for rock and loose rock and lightning storms and cactus on the rock and how hard things can be. Superficiality disappears up there too, so a lot of things like my looks, or how I'm dressed, or if I'm skinny enough or big enough – all those silly superficial concerns – melt away on the rock and that feels like a spiritual thing.
Q. What music are you using in the film?
A. We are going to use mostly ambiance and techno style instrumental music, anything with female vocalists if there are any vocalists at all. The idea is to match the feeling of the movie and the feeling of the movement with the feeling of the music. I did write a story for the film, but it's short: about two – three paragraphs long, so there will be a little bit of narration, but it's not a documentary, and there aren't any interviews of the climbers (maybe that will come down the road) but because this is a short film, the emphasis is really on the visual aspects.
Q. Which climbers did you choose and why? Are they all professional climbers?
A. Only one or two of them would be considered professional climbers. We don't have that many professional climbers in this area, and I think that is something that I've found that is kind of different in this film, just using the everyday climber who isn't sponsored and who isn't professional. What I did was I contacted all the women I knew in Flagstaff and Prescott and I asked them if they wanted to be in the film. These are women who have been climbing for a good number of years and are really dialed, and they know their limits and they know what they are doing, however they are not necessarily sponsored. Some of them have kids, some of them have full time jobs that don't involve climbing, a few of them are climbing guides, a few of them are climbing photographers but for the most part they are not professional climbers, they just choose to do it on their own time.
Q. What are you hoping your film will accomplish?
A. I would like there to be a different voice in the adventure film industry. Often when I go to the Real Rock Festivals, or any mountain film festival, I see that women are underrepresented and definitely in the rock climbing world. For example Nike just put out this really cool women's surfing film and there are a lot of really badass female surfers in it, but behind the scenes every single person was male: every photographer, every producer. I'm just trying to do something different, and if it doesn't go anywhere after this that's fine, but if it does and we end up making a difference with our documentary that would be really cool. It's just really bringing a dream of mine together and hopefully inspiring other women to just get out in front of the camera and not just be the girlfriend belaying her boyfriend on camera. The other thing is that it just doesn't matter the ratings – I did my master's thesis on the long term benefits of rock climbing and the relationship between climbing and meditation, and climbers that have been climbing for 20, 30, 40, 50 years, after ten years or so they said the ratings didn't matter to them, it was more about how they felt when they went out, and it did it feel good, and that's what they were going after – that feeling. That's what I'm trying to do with this film, capture the feeling.
Q. You chose to film in Northern Arizona. Why does it make a good setting for your film? Which crags did you choose to climb?
A. We chose all of our local crags: Sedona, near Flagstaff , Prescott Valley. The reason for that is I'm really into sense of place and just keeping things simple and as local as possible. We also have incredible rock – all those types of rock I mentioned like granite and quartzite a short driving distance form here, so I felt like, why go anywhere else? The climbing areas are really uncrowded compared to Bishop or Boulder or places like that, so I think we are really lucky to be here. It's easier to film when there are not a lot of other parties out trying to use the routes that you are on, and the women in the film know the routes around here the best. So many of the women in the film have done the routes they were filmed on many, many times, and a few of them hadn't done the routes that they were filmed on before so there is a variety there.
Q. You also chose to film some less traditional urban climbing scenes. Can you tell us about that?
A. We did some 'Buildering' shot downtown. There are some fantastic sides of buildings here in Prescott that climbers usually know about. They were a little hard to film because we were filming only using natural light the whole time (daylight). It was adventurous and there were some close calls, but we did get the footage we wanted – there is some great footage of women climbing up the sides of buildings.
Q. You have a few sponsors including Petzl and Mountain Hardwear. What are some of your favorite pieces of gear that the climbers used in the film or that you use personally?
A. The clothing that Mountain Hardwear gave us is awesome. All the climbers have these cute little tank tops with built in sports bras which are my favorite thing to climb in. Petzl has a new climbing helmet [The Elia] that has a ponytail adapter and some of our gals like that. A lot of our climbing in Sedona does require a helmet.
Buy the Petzl Elia on OPL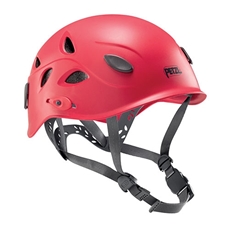 Buy the Mountain Hardwear Mighty Power Sport Tank on OPL
Q. Your Kickstarter has had a great response so far, do you have anything to say to the donors? What about to potential donors?
A. Just that if there is any way to donate, it will really only contribute the quality of the film. At this point with our editing, it would be nice to do it in certain amount of time, but if we have a little bit more money we will be able to take our time a little bit more and do an even better job putting the final touches on the editing. The other piece of that is we'll also have more money to submit the film to film festivals because some film festivals actually charge.
Q. When are you hoping the film will be released and where can we find it?
A. I'm going for doing a grand opening here in Prescott at the end of September, and it may be coming to a theater near you. I'm not sure exactly how that will work, but eventually you'll be able to watch it online, but it probably won't be until we enter it into a number of festivals. We are hoping to be done with the editing by the end of June, so we are working really hard on that right now, and then we'll starting submitting it around and showing it at the end of September.
If you are interested in helping make On the Rocks happen, you can contribute to the Kickstarter – only 3 more days to go! http://www.kickstarter.com/projects/142486478/on-the-rocks-the-first-all-womens-rock-climbing-fi
For more info about Titiana's film, visit the website: http://atypicalart.com/ontherocks/trailer/
Shop Mountain Hardware and Petzl on Outdoor Prolink. Not a member? Apply today!