Craig DeMartino has been a climber for the past 24 years. He climbs around the US and the world chasing routes of all types… In 2002 he was accidentally dropped 100 feet onto the talus of Rocky Mountain National Park which resulted in the loss of his leg, a fused back and neck, and a lifetime of chronic injuries. It is also what led him to Paradox Sports. He leads clinics for Paradox teaching other disabled climbers how to get back to climbing, and life, with humor, psych, and a love for their new "normal". Craig was the first amputee to climb El Capitan in Yosemite in under a day, part of the team on the First All Disabled Ascent of El Cap, and a Bronze Medal winner in the Paraclimbing World Championships in France. He is a dad and husband and loves to spread his love of climbing to the world through our programs at Paradox. – Paradox Sports
The team over at Petzl have been making great products for years, that's not a surprise to anyone. But what is a bit surprising, at least to my over caffeinated brain, is the level of craftsmanship built into the Sama Harness I've been wearing. The Petzl Sama Harness arrived a while back and I dumped it into my bag thinking it was like any other harness out there. Not true.
I do a mix of sport climbing with some long trad routes thrown in for good measure. I usually mix up my harnesses using one for sport and one for trad. Once I started wearing the Sama in Lander, Wyoming on a sport trip, I noticed how beefy it was and after clipping bolts for 5 days, and tried it on a long route in Colorado. It not only holds draws well, its four sewn gear loops take a surprising amount of gear as well.
On long sport routes I never needed all four loops, but on trad routes I could load them up with gear and still be able to find the piece I needed when I needed it. It's a nice light harness and is padded in all the right places, which for me, with a fused lumbar spine, makes a huge difference in comfort over my usual sport climbing harness. It supports my back well without adding much weight and quite frankly, the trade off in comfort is well-worth the added ounces.
I ordered a Medium since I seem to always fall right in the middle, and it was spot on for sizing. The leg loops have a stitch piece of webbing to keep them tight and the nice thing about it is it's sewn into the actual loop so it looks like it's part of the design.
Some folks I spoke to didn't like that the gear loops laid down, but for me it made no difference in function. I have both types of harnesses and I never noticed it hurting my climbing by not having a rigid loop.
The buckle is always doubled back, so safety is pretty simple, and the mesh outer lining seemed to breathe well even on a hot Wyoming day spent in the sun.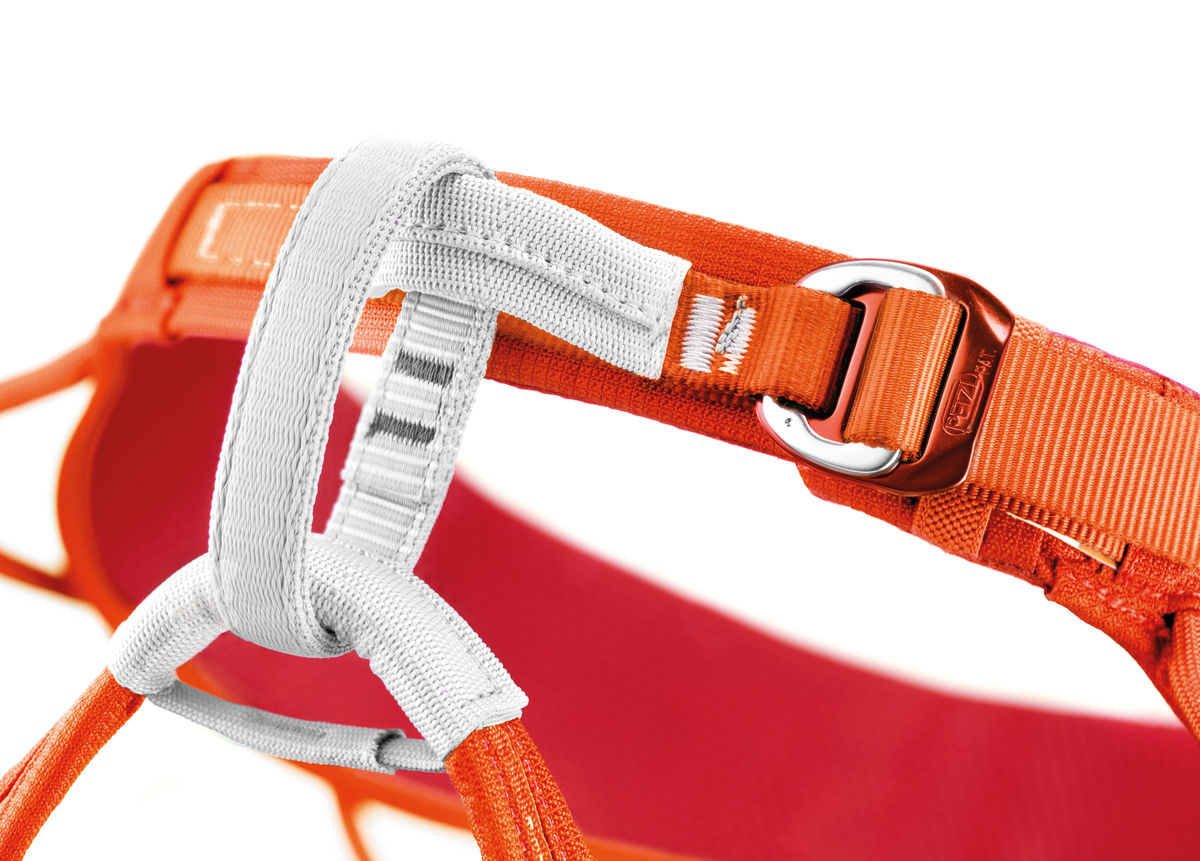 Overall the Sama Harness is a great all-around rig for sport or trad. If I have to keep one harness in my bag to do a bit of everything, the Sama is my new go-to.